To The Mountain Tops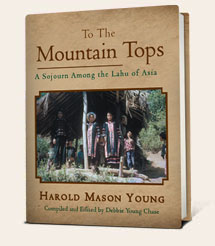 TO THE MOUNTAIN TOPS was written by Harold Mason Young, Gordon Young's father. In this book, the author uses his quaint writing style and keen observational skills to share with the world information on the Lahu Na people living in northeastern Burma and the bordering mountains of Yunnan, China.
Born of missionary parents in Kengtung, Burma in 1901, Harold Mason Young had the unique opportunity of growing up with the Lahu people during a time when ancient tribal life could still be observed.
Fluent in many languages, the author lived closely with the native people and was culturally more integrated with them than his own American ancestry. From the Lahu people, the author accumulated knowledge about hunting and surviving in the dense jungle.
He shares in this book the interesting history, folklore, customs, beliefs, rituals, and hunting methods that were still practiced during this time. Harold Mason Young will take you back in time and describe the beauty of the jungle, the seasons, and the most fascinating ways of the Lahu tribes situated in the high mountains.
TO THE MOUNTAIN TOPS was compiled and edited by Debbie Young Chase, who is the daughter of Gordon Young, and granddaughter of Harold Mason Young.