Journey From Banna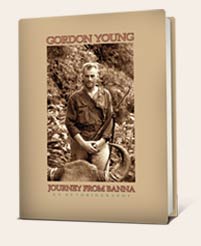 Gordon Young now shares his exciting memoirs of travels, hunting, work and encounters in many parts of Asia, from 1927 to the mid-1970s. Journey from Banna takes the reader to a myriad of exotic places of times past. In this exciting, humorous and informative autobiography, Young describes the abundant wildlife, the unique peoples, customs and languages and the pristine wilderness terrain of areas that even today few tourists ever see.
Born in the mountain village of Banna, China to American missionary parents, Young's early activities and life view were strongly influenced by the Lahu-Na tribal people of Northeast Burma, where the family soon moved. As a child, Young's first language was Lahu, and he played and hunted with Lahu-Na boys, learning by age ten to survive in mountain jungles alone, armed only with knife and bow. Schooling and later the impact of World War II took Young to parts of India thick with wildlife. Much later Young became known for his skills and achievements as a hunter, explorer, naturalist, ethnographer and conservationist.
Packed with photos, the book takes readers from jungle trails to major world cities--traveling on foot, donkey back, camel back; by boat, ship, train, bus, Land Rover; and in all kinds of air craft—to parts of south China, Burma, Korea, Thailand, Laos, and South Vietnam, as well as across the seas to the United States. With Young's great storytelling skills and unforgettable tales, and with World War II and the Korean and Vietnam wars setting the world stages around his stories, Journey from Banna holds historical importance and offers marvelous entertainment as well.