Run For The Mountains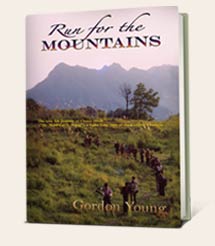 Run for the Mountains presents the biography of a Lahu-Lisu tribal man born in northern Thailand. By published author Gordon Young, this book introduces readers to Chanu and his life of circumstance.
From the moment of his birth (1929) under a crab apple tree in the jungle wilderness, Chanu's life was turbulent and action-packed. Slave, farmer, prisoner, hunter, bandit, smuggler, soldier-guerilla, lover, winner, and loser—he was all these at different times. His story spans a wild and fascinating period of history in the Golden Triangle of Southeast Asia.
Young worked, traveled, hunted and spoke both Lahu and Thai with Chanu, enjoying a close association for about fifteen years. By keeping notes during long sessions with Chanu at home and in the jungles around campfires, Young was able to create this first person narration. With interesting details about travel, wildlife, economy, courtship practices, social attitudes and local politics, Run for the Mountains provides a truly valuable and colorful history of these dynamic times as experienced by a courageous, humorous and highly observant tribal man as he encountered and adapted to modernity.